Back in the days when NAAFA meant National Association Aiding Fat Americans its founder and the father of fat acceptance Bill Fabrey never lost sight of that vision. Today Bill Fabrey is aiding fat bodied folks by providing them with ingenious products designed especially for the special needs of fat bodied folks. Bill is the proprietor of the wildly successful company Ample Stuff. Bill is not afraid to tackle the problems fat bodied folks face that the hens currently running fat acceptance don't want to talk about. I am speaking of the hygiene and toileting challenges fat bodied folks face. I will admit, as a feeder I can tell you with great authority that sometimes BBW's and SSBBW's can have a rank odor especially in places they are unable to reach. Many fat bodied folks are not aware that Ample Stuff exists to fill their special needs.
Ample-Sponges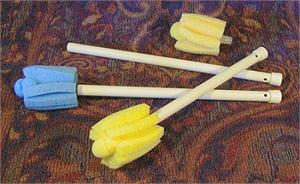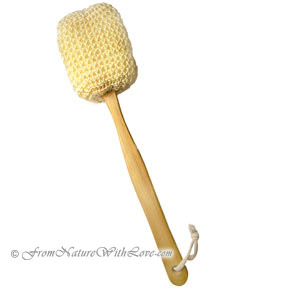 These thirsty butt wands sop it up where you need it most!
Ample sponges are a godsend for fat bodied folks that have a problem reaching "back there". I can only imagine the back sprains the fat bodied folks get from twisting and contorting to reach "back there". These Ample sponges are also great for cleansing in between the fat folds as well as wiping those hard to reach super sized butts. Ample sponges are just one example of the wonderful products Ample Stuff offers. They also sell portable bidets, scales that go up to a whopping 1000 pounds, seatbelt extenders, a 96" measuring tape, (a must for every feeder and gainer) and a plethora of other thoughtful offerings for the super fat bodied folks.
http://www.amplestuff.com/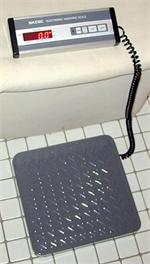 Bill's Ample Stuff has been serving the needs of the super fat bodied for over two decades. Bill is truly one of FA's unsung heroes. Bill Fabrey is to fat acceptance what Thomas Jefferson was to democracy. If it were not for Ample Stuff the lives of fat bodied folks would be unpleasant at times. If it were not for Bill Fabrey there would most likely be no fat acceptance movement.
There are many other heroes but the greatest and the most neglected is Bill Fabrey. I will be writing more about him and as I explain why he started NAAFA but let it suffice to say that Bill's motivation for starting NAAFA is the greatest love story of all time. Bill Fabrey, we at Bigger Fatter Blog we salute you.
Great John's Johns Bring Worry Free Pooping To All Fatlings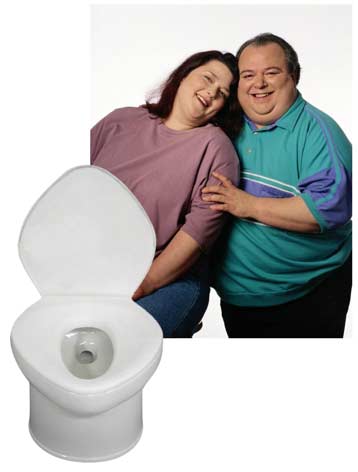 No more toileting trouble. It would take a herd of elephants to clog up this bad boy!

Being a serious feeder I have worked part time in a restaurant as a manager. If you are a feeder and you want to meet gainers restaurants are a best bet. It where to food is! Sometimes as a manager you are forced to take care of unpleasant problems. One of those problems is stopped up toilets. Fat folks, God bless em tend to break and plug toilets. It's only natural. They are heavier and they produce more poop cause they eat more food. They require more toilet tissue and as a result they damage and clog standard undersized toilets.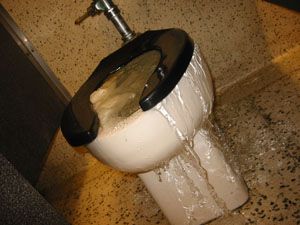 How many times has this happened to you? Plunger it you skinny skank!
The
size of the average person's butt has increased dramatically over the last 30 years.

These amply asssed SSBBW's are living proof the Atkins diet really works.



Most toilets made today are manufactured from designs dating back to the early 1960´s. In the past, the pleadings of big and tall people went unanswered. For this reason fat friendly GJTC engineers, medical doctors and artists took to the task of creating a NEW GENERATION of products satisfying the needs of today's customers. Our goal was to create the most comfortable and safe toilet for Large-Size people in the market. The other challenge was to make a toilet that
could also be used by any size person. The final result was the creation of a "SIZE FRIENDLY TOILET" .
Vitreous china

� Low water Consumption (1.6 gpf / 6Lpf )

�

Extra-Elongated rim

bowl for additional space in the front (6in. more
than a standard elongated bowl) Now fat folks can wipe while seated.



� Extra-Wid

e ergonomic seat included. Large seat area for comfort



� 150 % more sitting area than a standard elongated seat



� Seat provides �Anti-slide movement fins� for safety

� 12in. rough-in (Simple installation)

� Secure 4 anchorage points



� Extra-Wide base with reinforced structure for added safety





� 17-1/2(44.4 cm) bowl height including seat, ADA compliant



� 100% factory flush tested



� Ceramic tested to 2000 pound loads